The box manufacturing business is a particularly creative one. You can select from a variety of folding carton styles in the market. However, if you are new to the packaging industry, it will be quite perplexing or difficult because there are various types of boxes. 
But how do you know which box is suitable for your product? To make it easier for you, let go through all of the different folding carton types and how to best match each feature to your product in this post.
1. Tuck folding carton box
It can be said that the tuck box is the most typical form of folding carton boxes used in a range of industries. The primary panel is connected to both the top and bottom closing panels. A tuck end box usually has slit locks to keep the tucks in place.
The tuck box is perfect for light and medium-weight items. However, as this type of box is flat, its storage is little. Moreover, there are rarely difficult requirements for assembling. Cutouts can be held without compromising the integrity of the product. 
2. Lock bottom box
Lock bottom folding carton box, also known as 1-2-3 bottom box, is designed to hold heavier products. The bottom flaps push into each other, creating a highly strong foundation that will not open even if the goods inside are very heavy. They usually have a tuck top panel with friction locks or slit locks for the top closing.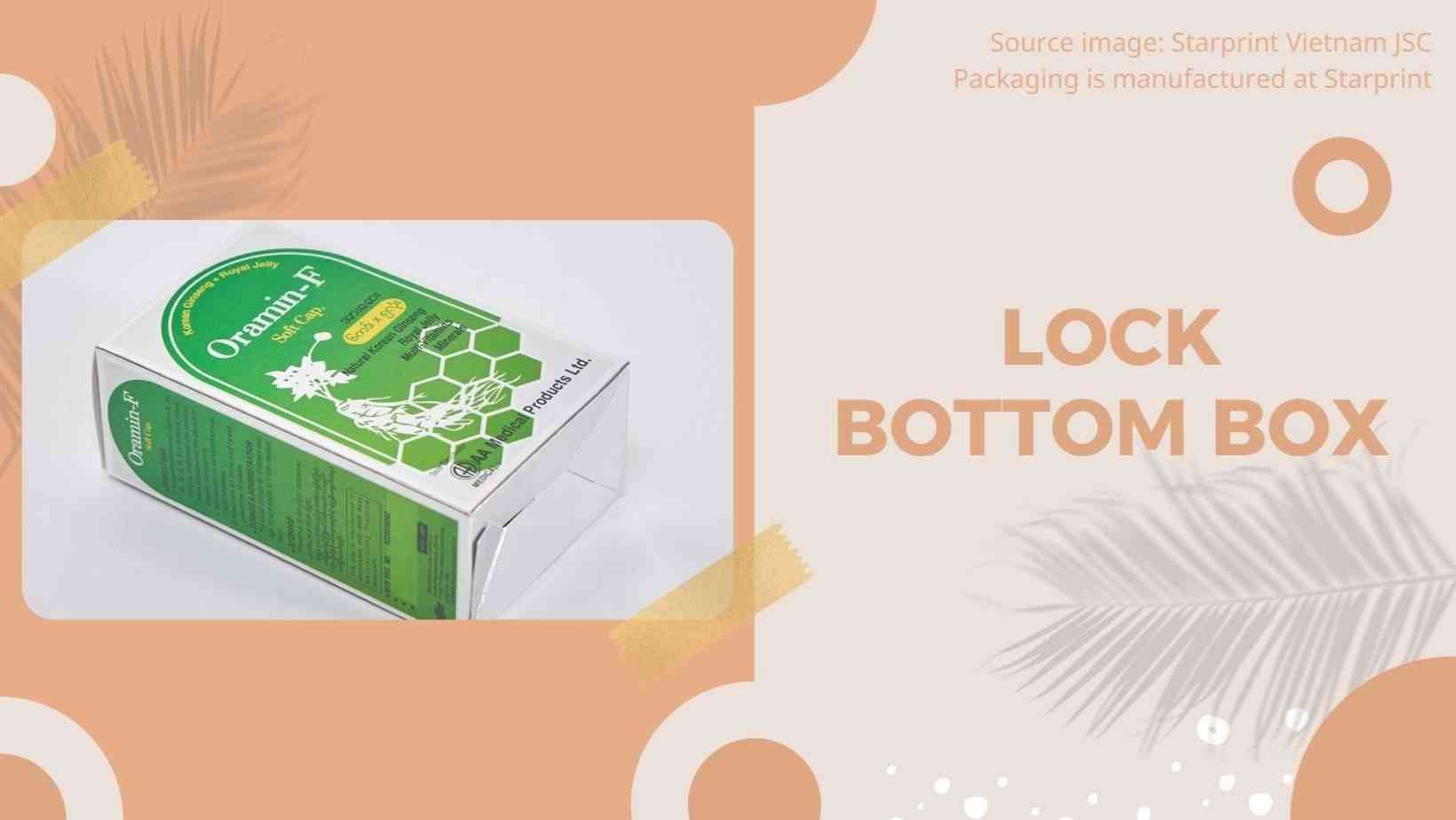 If you are looking for a kind of box that can hold heavy products, such as candles or glass jars, a lock bottom box is ideal for you. However, like a tuck box, the storage of the lock bottom box is quite compact. The flat bottom allows items to stack properly. Another advantage of this box is that you can easily assemble them in only three steps.
3. One-piece tuck top box
Thanks to its double sidewalls, the tuck top box is robust and durable. It is shaped like a mailer box, but it is constructed of paperboard. The double-wall tuck top box features one top opening and two closing flaps with a friction lock that folds into the bottom of the box. A one-piece tuck top box is perfect for presenting numerous products in a single box. With the advantage of the two walls, this folding carton box is really firm and can contain heavy items.
4. Two-piece box
A two-piece box, also called Simplex Tray or Kwikset Tray, is an attractive packaging option for any type of goods, but especially for luxury items, sweet assortments, or product kits containing numerous items. They are made up of a tray and a cover, both of which have a double-wall structure, making the box extremely robust as well as long-lasting. Inside the box, you can also put custom inserts to hold your items in place. A two-piece box will be more exquisite when they are in combination with box sleeves.
5. Sleeve folding carton packaging
A box with no ends wrapping around the product container, giving the box a higher level of personalization and protection is sleeve packaging. Box sleeves, like any other box, may be personalized with your particular information, then you can purchase small quantities if you want to target different demographics or sell them for many events. Not only cutouts but also unique decorations can also be stored in a sleeve box.
With the advantage of being more affordable than a full box, sleeve packaging is ideal for either trying new products or turning a blank box into a personalized box quickly. It is cost-effective because it consumes less paper. 
6. Counter display box
A counter display box, sometimes known as a pop-up box, is a folding carton that serves two purposes: one is for packaging the contents, another is for displaying the contents within. When the folding carton's lid is opened, it becomes the header, providing more promotional space. When the box is closed, it protects and carries the contents.
Depending on your needs, you may make a display box with detachable perforations or only folding sections. Premade perforations, scored panels, and cutout sections can all be added if you want to. Counter display boxes are perfect for selling small products as grab-and-go. 
7. Folding carton box with inserts
An insert is a cut and glued piece of paperboard that helps secure the product inside the folding carton. You can use an insert box to hold products that need to stay in place, like medium or light-weight or fragile items. An insert box is a good idea to put several smaller goods in the same box as well. It can be designed to match the precise shape and size of your product.
For example, an insert can be found in a glass bottle box to keep the glass bottle from sliding around as well as provide the bottle with an added level of protection. It can also be inside a candy roll display box or a cosmetic kit, where it serves as a divider.
8. Box with custom cutouts
Packaging with custom cutouts is a box with the paperboard sliced out of the design to reveal the contents inside the box. These cutouts are made with die-cutting techniques. To make your brand packaging more unique and specific, you can also use cutouts to your advantage by designing a custom cutout.
This type of box is very flexible to use with any product or industry. You can also make any shape, from circle to triangle, anything you like. If the box is created appropriately, the integrity of the box will not be compromised. 
Custom folding cartons can help you expand your business. If you need to know further information, our team of packaging specialists is always available to assist and advise you in designing your ideal box. Contact us here or find out more about our folding carton boxes here.