Dong…ding…dong…! Do you hear that sound? The sound of Santa's Sleigh Bells. Yes, Christmas is coming to town. It is the best and the most wonderful time of the year with lightning decorating, colorful presents and many attractive activities. One of these is giving Christmas gifts to our loved ones.
On Christmas Eve, people often gather to give each other meaningful presents and wishes. If you want to express your love to your other half on Christmas Day, then check out the 5 thoughtful Christmas gift ideas below!
1. Xmas socks
Christmas is a day when our heart is warm but our feet are cold, so a pair of funny socks is a terrific way to offer the gift of warmth and joy. Socks as gifts have been a tradition since the days when socks were still knitted by hand, and they are still a popular Christmas gift today. If you want to make your loved ones laugh while also giving them something to wear in the new year and beyond, get them a pair of humorous socks!
You may also pair socks with another modest item to create a gift bundle. This will be funnier than its components. Consider getting a bottle of wine and a pair of adorable wine socks!
2. Cosmetics, a lovely Christmas gift for your loved one
It is needless to say that cosmetics are one of the most indispensable items in a woman's bag whenever she goes out. For women, a flawlessly gorgeous face gives them a youthful, bright, and vibrant appearance. Therefore, cosmetics are always the best gift for her on Christmas. She will be thrilled and excited if you choose a makeup duo as a present.
3. Cocktail at home
Cocktail kits are excellent Christmas gifts for cocktail lovers. From cocktail recipe books to full cocktail experience sets, these gifts will be ideal for warming up the holiday season. Even if your friend is a beginner bartender or a mixology expert, he should have at least one cocktail set in the collection.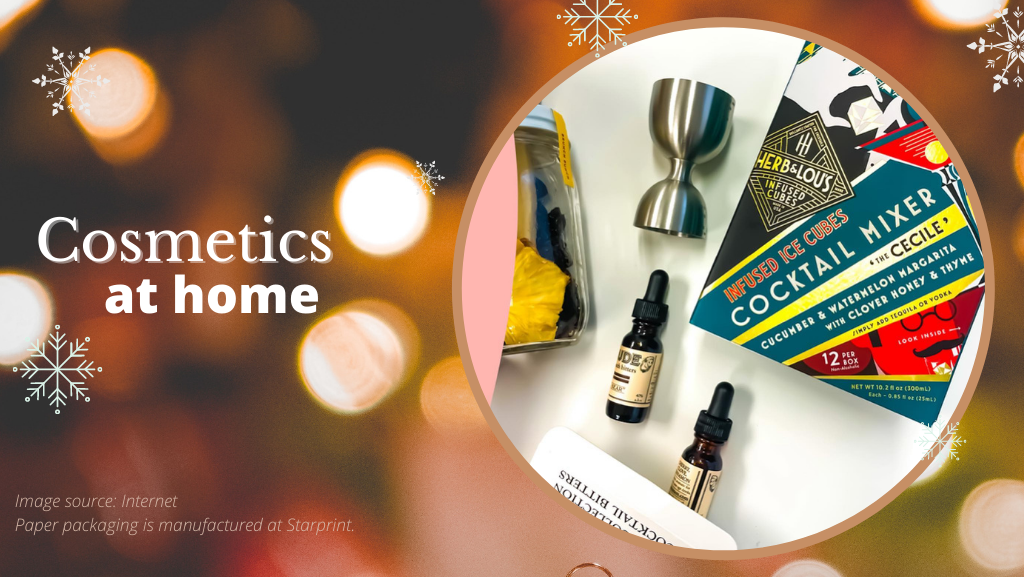 If you're still looking for the right present, why not treat them to some infused cocktail cubes. We are sure that they will have a fantastic Christmas season thanks to the ready-to-drink goodies. 
4. 3D-shaped cards, a Christmas gift for holiday greeting
This year, why not go a little more creative with your Christmas gift-giving? How about doing some inventive Christmas card ideas? They'll be even more thrilled by the contents if they come in a handmade 3D-shaped Christmas card, whether it contains sincere remarks or a much-desired gift card.
If you can be sure that you put into these 3D cards every of your additional effort, they will be appreciated by everyone who receives them. After all, a hand-drawn Christmas card shows the recipient that you took the time and care to create it, and it serves as a reminder of how much your love is.  Whether it comes with funny Christmas socks, famous makeup sets or luxury cocktail kits, your 3D cards will always be noticed.
5. Xmas papercraft
If you still can't think of anything better to give your loved ones, then some Christmas papercraft ideas are sure to help you. Whether you create several easy crafts with your kids or something a little more complex by yourself, the recipients will completely appreciate and enjoy them. 
Furthermore, cardboard paper is a great papercraft gift if you know how to make them. With just a few colorful cardboard sheets, some basic tools, and a little ingenuity, the paper may serve as both your main gift and your gift bag!
Now that you have just joined with Starprint to learn about 5 meaningful Christmas gifts for this special occasion. Do you have your own thoughts and decisions? Hope these presents will successfully convey your sincere love to the one you care about. Starprint also wishes you a wonderful Christmas and the coming year is full of many blessings for you and your family.
Don't forget to click here to read our latest articles and find your dream products with us! If you require any further assistance, feel free to contact us anytime!