For centuries, Tet, or Lunar New Year – the greatest traditional festival in Vietnam – has always reminded Vietnamese of all generations of the warmest family gathering occasions; it also calls to mind prosperity and good fortune. In the last quarter of the year, Tet presents have gradually become an interesting topic to many people. Especially along with society growth trends, the requirements for Tet hamper in its uniqueness, significant content, and individual quality are getting higher from time to time. 
Understanding the market demands of luxury Tet hamper, many 5-star hotels created their own presents for the high-end class. Some of the items in Tet gift box have been hand-crafted by the top chefs from famous hotels. If you are yearning for a Tet hamper that promises to "Wow" your recipients, below are the most luxurious Tet hampers shown in 2021.
1. InterContinental
Beautifully presented in a round-shaped box that represents prosperity and abundance, you can show appreciation to your loved ones and business associates with this Tet gift box. Featuring one of the main monuments of Ho Chi Minh City – the Notre Dame Cathedral, complemented on the side by the portrait of the ox from Dong Ho folk, this Tet hamper also includes the finest gourmet goodies and wine. The InterContinental hotel called this creation: "Hamper of Prosperity" as an exquisite yet luxurious treat that is the perfect gift for sharing during joyous gatherings with family and friends.
2. Sheraton Tet hamper
Inspired by the ancient tale of a great king seeking longevity for his parents and be given advice from six powerful gods, Sheraton Saigon Hotel & Towers has launched a luxurious and expressive gift that comes in a gorgeous red hardcover engraved with elegant peony blooms – the symbol of prosperity, fortune, love and honour – and its golden logo, containing six square boxes of different colours and illustrations, portraying the same amount of quintessential items from the gods. This hamper contains an assortment of selected Tet goodies for prime quality, nutritional values and flavours including nuts, dried fruits and tea for a flourishing new year. Known in Vietnamese as "Luc Vi Hong Phuc" which means "The 6 Quintessences of Great Blessings", Sheraton Saigon's Tet hamper promises to bring good fortune upon its receivers.
3. Park Hyatt
Even though the peach blossom is usually associated with holistic prettiness due to its romantic pink colour, "the national flower of the Vietnamese Tet holiday" is also praised for its persistence, exceptional youth, and power to bloom with grace against all odds. The sight of delicate peach blossoms blooming amidst cool spring breezes, from time to time, has constantly reminded Vietnamese of the Tet holiday. Poetic, elegant, and timeless, this flower is the muse of Park Hyatt Saigon for the year of 2021's Tet gift box collection. It plays as the genuine symbol of our wish for a promising year and the courage to break all barriers.
4. Hilton Tet hamper
On each occasion of Tet holiday, Hilton Hanoi Opera Hotel has witnessed gradual changes in Vietnam's traditional values as the years go by. This 2021, its Tet presents a dash of modern life's impact on traditional values. Hilton launched two hampers with elegant designs from high-class handbags combined with traditional floral motifs, packed with chocolate, heart-shaped cookies, biscotti and a bottle of wine. These presents have become an ideal Tet gift box that is elegant and outstanding, satisfying the giver and recipient.
5. Pan Pacific
In the Ox year of 2021, Pan Pacific Hanoi unveiled its Tet hamper collection named "𝐷𝑎𝑐 𝑇𝑎𝑖" and "𝐷𝑎𝑐 𝐿𝑜𝑐". Inspired by magnolia flowers – the symbol of pure beauty, the gift box decked out with the red theme revealing a new beginning of best luck and good fortune. As the highlighted items in 2021's Tet holiday, 𝐷𝑎𝑐 𝑇𝑎𝑖 box featured a golden fortunate ox bowl, and 𝐷𝑎𝑐 𝐿𝑜𝑐 box is garnished with a golden ox statue skilfully embellished, creating a lavish and elegant look of a distinctive new year gift. Giving 𝐷𝑎𝑐 𝑇𝑎𝑖, 𝐷𝑎𝑐 𝐿𝑜𝑐 is giving out wishes of abundance, prosperity and well-being to families, friends, and business associates.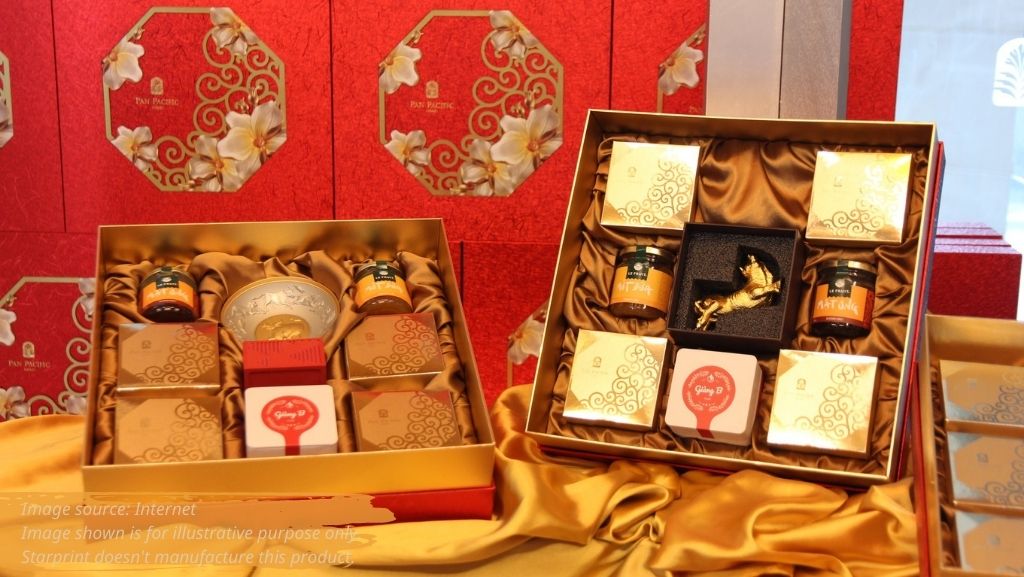 2021's Tet holiday passed through with the spreading news of Covid-19 all over the world. Looking to the 2022's Tet, let's await the overcoming of the pandemic and the booming of the most fabulous designs of Tet gift boxes. In particular, you can look over the packaging that we have made for other brands right here or reach out to us to have the most effective packaging solutions for your products.