FMCG is one of the highly competitive industries in Vietnam, both in the field of traditional and modern trade. Among so many brand competitors, you need to think about how customers recognize your brand, choose your product and remember it. Is this the right time for businesses to have more effective paper packaging design solutions?
1. The size should be right for the product
Like the packaging of many other fields, FMCG packaging design also has its own principles. And if you apply these principles well, your design will become standardized. As a result, it aims to be an effective sales tool that generates revenue growth.
Firstly, do not think that the size of the paper packaging needs to be large so that the product inside can have more spaces. Also, the packaging should not be too tight just to save money. Packaging needs to be the right size, to fit the volume of the product. This both ensures aesthetics and protects the product well, and is convenient for transportation.
2. Two-side design of FMCG consumables' paper packaging
Focusing only on designing one side on the front is the mistake of many FMCG products. That's because the product does not always come into contact with the customer from the ideal front-facing angle.
Therefore, only taking care of the front, your product has lost the opportunity to be recognized. Come to invest in packaging design on both sides to help products be displayed in the best and most complete way. Doing so limits the risk of product placement on store shelves making it difficult for customers to access products.
3. Paper packaging for FMCG consumables needs to be informative
Fast-moving consumer goods products are associated with users' health. Therefore, customers always set high criteria and requirements for this product group. Packaging should not only pay attention to aesthetics but ignore the presentation of essential information.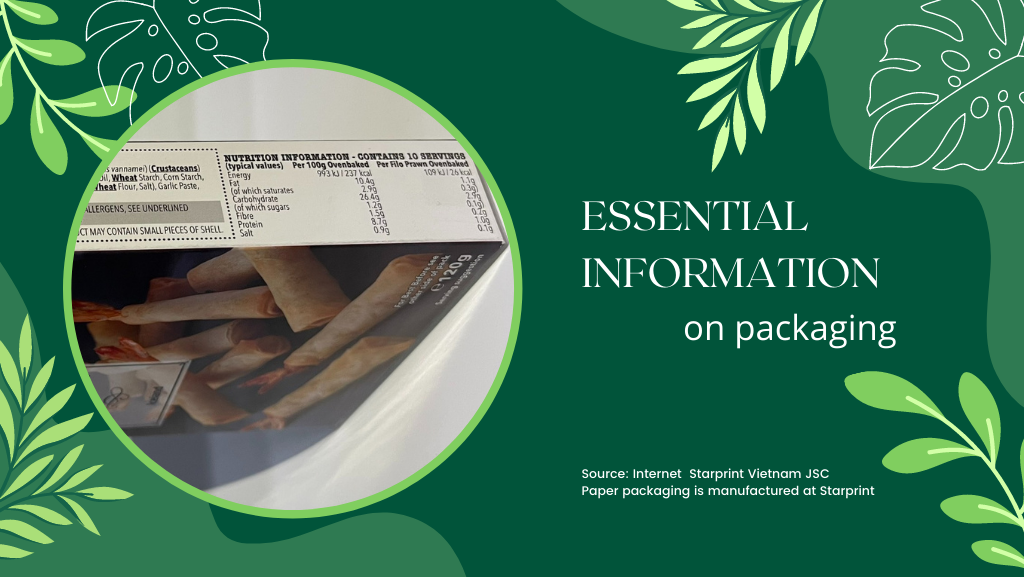 This is a way for products to be transparent about quality, helping customers understand the product better. Since then, they will have greater confidence in the product to use with peace of mind.
4. Beautiful illustrations help FMCG packaging attract customers
In addition to following rigid standards, this is an opportunity for designers to unleash their creativity. Impressive images and colors on the packaging can affect customers' emotions. From there, they naturally influence their purchasing decisions. With unique ideas, your products have a chance to stand out from the competition.
5. Environmentally–friendly materials
Paper packaging gets manufactured from environmentally-friendly materials for recycling and reuse solutions to help increase customer sympathy for the product. In fact, more and more customers are interested in environmental issues and orient themselves in the "green" trend. Besides, the product will be different and easily remembered thanks to its "green" nature.
If you would like to have a discussion or need some packaging advice, Starprint is a trusted partner that lends a helping hand. Click here for more insights into the sustainability trends in paper packaging manufacture, or contact us to have the most effective solutions for your packaging.